Software Tutorials
Send Free SMS
1. Create a new account then add into Software.
Provider - Links
Way2SMS - http://site2.way2sms.com/jsp/UserRegistration.jsp
160by2 - http://www.160by2.com/UserReg
FullonSMS -http://fullonsms.com/Register.php
Site2SMS - http://www.site2sms.com/userregistration.asp
SMSFI - http://www.smsfi.com/registration
IndiaRocks - http://www.indyarocks.com/registration
SMSabc - http://www.smsabc.com/
After Creating Account Add In Software -
<![if !vml]>

<![endif]>
<![if !vml]>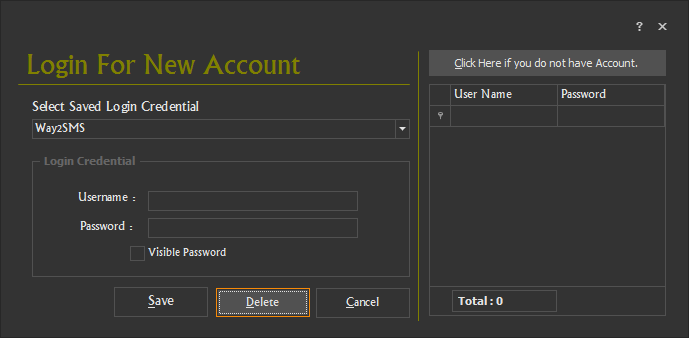 <![endif]>
Select the appropriate Provider Enter Username Password and Save..
Now the software is ready to send Free SMS.
2. Start to Send SMS
Select On Provider (ex. Way2SMS, Site2SMS)
And Select Account, Enter Number, SMS, Or Smiely (if You Want) And Just Click On Send button.
<![if !vml]>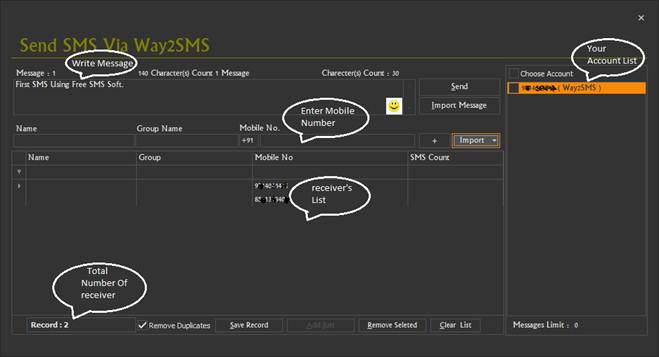 <![endif]>
Remove Selected - This Button Remove Selected Number From receiver's List.
Save Record - This Button Save Records in Phone Book.
Clear List - This Button Clear the List Of receiver's Number.
Import Message - This Allow Import Message from Inbuilt Message (To read More See Message Insert and Update)
Import Contact - This Allow You to Import Number from Text File, Excel File and Contact Book. (To read more See Import Number)
Remove Duplicate - If This Checkbox selected Than Duplicate Number (Like twice Same Number) Removed Otherwise Not.
3. Contact Book
<![if !vml]>

<![endif]>
<![if !vml]>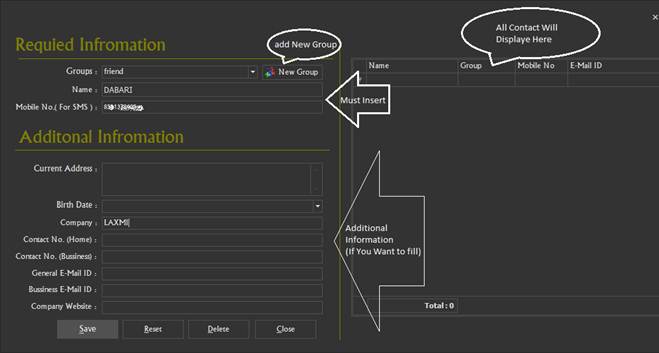 <![endif]>
Save - Save Contact (You Must Fill Group name, Name and Mobile No)
Reset - Reset All Field for New Contact)
Delete - Select Record And Just Click On Delete
4. SMS Scheduler -
SMS Scheduler is a Service to Send SMS with Timing... Like birthday, Meeting after 2 hour......
<![if !vml]>

<![endif]>
<![if !vml]>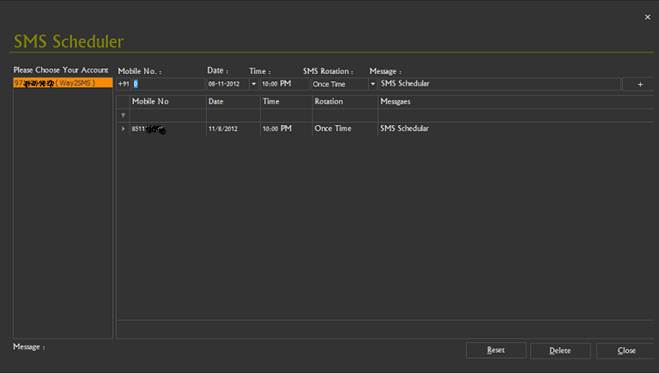 <![endif]>
Account - Select Account
Mobile No. - Enter Mobile Number That You Want to send SMS.
Date And Time - Select date and time of Schedule SMS.
SMS Rotation - Select Rotation Type Like once, Every Day, Every Month, or Every year.
Message - Write You Own Message.
5. Add Message-
<![if !vml]>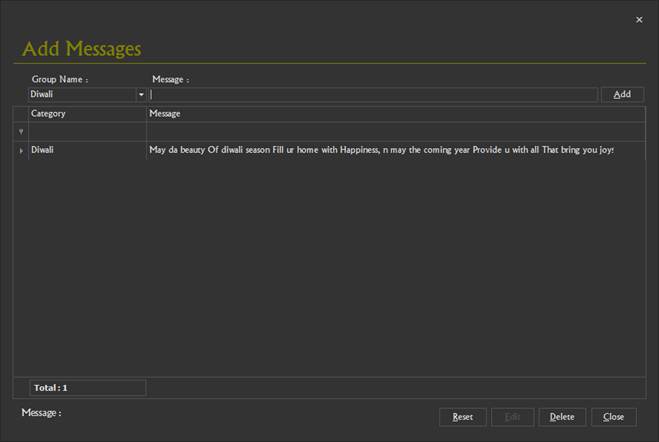 <![endif]>
Here you can add you own message to and the call it on send time.
6. Black List -
Sometime You Need to Block number For SMS Sending. OR Sometime You Given Order TO Block some number to avoid Sending Message.
Enter Number in Black List
Simple Select Black List from Top menu
<![if !vml]>

<![endif]>
<![if !vml]>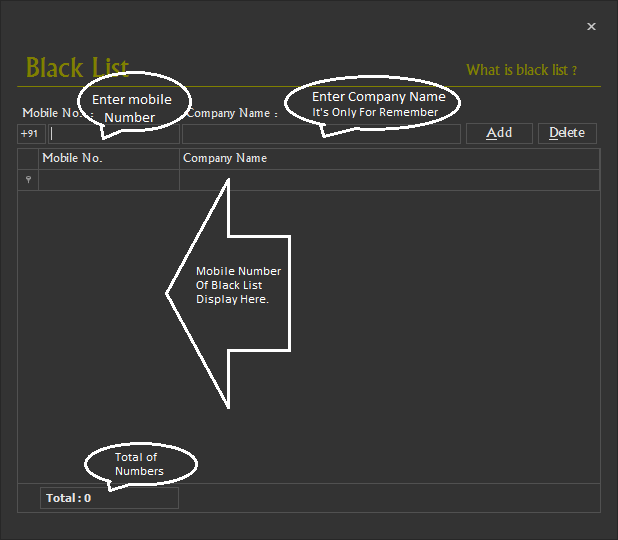 <![endif]>
Enter the Mobile Number and Company Name (Company Name is Only for Remember)
How to Unblock Number?
Simple you need to select the Number from Black List and Click on Delete Button.
7. DND Checker-
DND Checker Check if the Number Is DND Or Not.
<![if !vml]>

<![endif]>
<![if !vml]>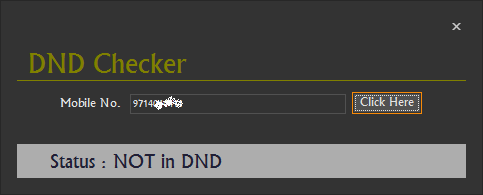 <![endif]>
Just Enter Mobile Number and click on Click Here button
8. History-
<![if !vml]>

<![endif]>
<![if !vml]>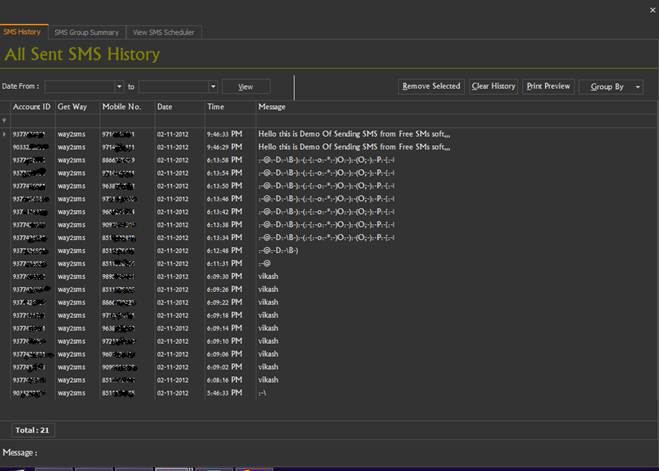 <![endif]>
Finally we move on History Section after sending successfully SMS. We want to see the how much message are send to our selected contact so here we can. 
You Can View History By Selecting Date, Category Like Sender, Receiver, Subject, Message and Time.
You can also print out.
Thank you.